Investing in a website that is optimized for tablet, smartphone, and "traditional" computers (PC, Mac) is a business decision that many B2B marketers are neglecting to a fault.
Whether it is the high costs associated with such project or lack of interest, many B2B marketers are simply choosing to miss out on lead generation opportunities by not creating an optimized website experience for visitors viewing from any of the three key "screens". Although most marketers are aware of the "four screen" concept of web design, in B2B marketing, connected TV has yet to make strides in helping marketers turn visitors into leads.
According to study by the big G (Google), while users are watching TV the most of any screen – on average for 43 minutes per session – 77% of that time is shared with the use of another device.
The key factor in determining which device is used more or less at any given time depends on context. By knowing which context a specific device or screen is viewed most, B2B marketers can further understand the importance of having a website optimized for mobile, tablet, and PC viewing.
The study by Google found that desktop computers are most commonly chosen for productivity or more detailed information tasks, smartphones to stay connected or for short bursts of activity, and tablets and smart TVs for entertainment.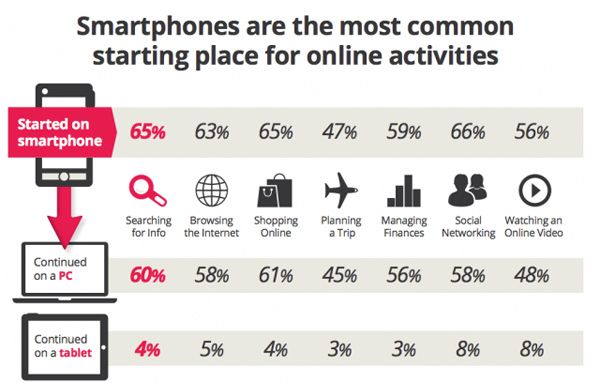 Desktops – PCs or laptops – enjoy the next most involved sessions, usually lasting 39 minutes each. Tablets and smartphones command shorter sessions again, with 30 minutes and 17 minutes spent per session respectively.
The key stat that marketers must be aware of that overall, 90% of all media consumption, or 4.4 hours per day, occurs across these four screens, but the most important device is the smartphone due to its tendency to initiate tasks that snowball on to other screens, or as Google calls it, 'sequential device usage'.
The study, conducted in conjunction with market analysts Ipsos and Sterling Brands, polled 1611 people across 15,738 media interactions and nearly 8000 hours of activity during quarter two of 2012.