Your portfolio is drop-dead beautiful. Full of stunning full-bleed photos of the interiors and exteriors of the houses you design. Unfortunately, if you don't bother to describe your project in word, your portfolio pages won't be easy to find in Google.
A picture alone is not enough. You need copy to support your beautiful image. A minimum of 250-300 words. And ideally the copy is written to take advantage of the keywords you decided upon above in our first tip.
5. Image Tags and Links
To "know" that a particular page focuses on a particular keyword, Google likes to see that keyword repeated about 5 times on a single page. (This is a rule of thumb.) Unfortunately, if your pages are short and the keyword is long, you can get a page that reads like a chipmunk wrote it. Lots of weird repetition that makes no sense.
"Sally's Interior Design Firm is an interior design firm that does edgy interior designs for customers who like edgy interior design"
See what we mean? And please don't use edgy. Think about how the consumer is searching for you, not how you describe your work.
The solution is to stick some of your keywords around images and links in a way that is not so visible. This greatly improves readability of your copy. Look for a CMS (content-management system) for your website that makes it easy to insert to insert keywords in the image tags and in the title tags of links. Two good solutions to consider are WordPress (a popular open-source solution) and Bislr (a new entrant that makes a complete solution for "intelligent" websites.) Run your cursor over these links and you'll see where we've tagged these links with the keyword "your-keyword-goes-here". So two links give you two mentions of your keywords in a way that is not visible to the naked eye but is visible to Google.
Likewise this visual contains the keyword "your-keyword-goes-here".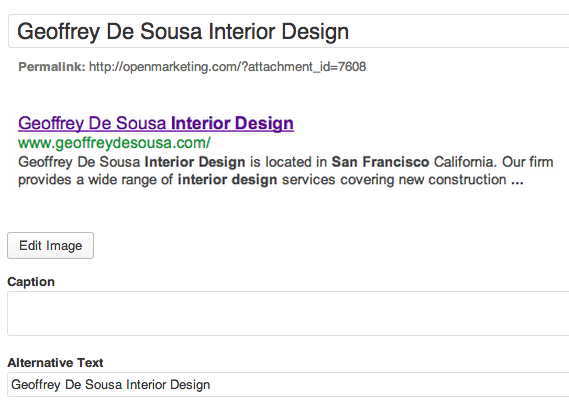 6. Fresh Content
Sadly – Google doesn't care how beautiful that project from 2004 is – the one that won your firm coverage in Architectural Digest plus that prestigious award. What does Google care about? Freshness. So many people tilt up faux sites with content that never changes. So the only way to prove that your site is legitimate and provides content that is useful to real human beings is by keeping your content fresh.
How to create fresh content to continue and advance your fundability in search? Create a blog and blog regularly, at least 3x per week. Your blog entries don't have to be long – 250-300 words is fine. Support your blog entries with visuals and follow tip #5 to make sure your visuals are working hard for you from a search-engine marketing perspective.
7. Analyze Results
SEO is a process and not an event. Make sure your install Google Analytics code on your site and look at the results to discover new keywords that people are using to find you. Google tells us that well over 80% of the search terms people enter into the browser are terms that are new it. To get the most from search-engine marketing, you need to look at your Google Analytics data regularly and when you see a new keyword is coming "up", develop content around it, content that will make you easier to find.
Summary
Does this all sound … well … complicated and technical? Well. Here's the bad news. It is. The good news is that few interior design and architecture firms invest in SEO. Which is an opportunity for you and your firm. Search-engine marketing is relatively low cost and it brings in high quality buyers, buyers who really want to put you on that short list we talked about earlier. But before you can get on the short list, you need to be findable in search.
Work with us or another firm that specializes in search-engine optimization (SEO) and it won't be long before you find you can dominate the search-engine results page for the keywords that matter to you.